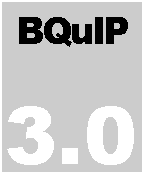 ---
Brief Questionnaire for Initial Placement (BQuIP)
This page contains resources and frequently asked questions on the Brief Questionnaire for Initial Placement (BQuIP).
For technical assistance on the BQuIP, please contact Anne Lee (ABellows@mednet.ucla.edu), Cheryl Teruya (CTeruya@mednet.ucla.edu), or Valerie Antonini (VPearce@mednet.ucla.edu).
BQuIP 3.0 (Beta Version) Resources
Training webinar (archived recording) - coming soon!
Mock interviews (archived recordings) - coming soon!
Technical FAQs - coming soon!
About the BQuIP
The BQuIP is a fast and free web-based tool that relies on electronic algorithms to help inform the initial placement decision-making process based on limited information. It is designed to generate preliminary recommendations for initial placement for individuals seeking treatment for substance use disorders (SUDs). However, ultimately, the initial placement decision must be made according to the clinical judgement of the individual using the tool and county policy.
The BQuIP will not provide a diagnosis and does not replace the necessity and requirement for a full ASAM assessment, as currently required under the Drug Medi-Cal Organized Delivery System (DMC-ODS) waiver. The appropriateness of the provisional placement decision made as a result of using this tool must be confirmed via a comprehensive American Society of Addiction Medicine (ASAM) assessment as soon as possible.
As part of the Drug Medi-Cal Organized Delivery System (DMC-ODS) waiver, counties are required to have a 24/7 beneficiary access call line (BAL) for individuals who are seeking SUD treatment. Counties and providers expressed the need for a brief, no-cost initial placement tool to quickly and accurately direct callers to the "right door", where they would receive a full ASAM assessment to confirm the placement or to determine a more appropriate treatment setting.
The University of California, Los Angeles, Integrated Substance Abuse Programs (UCLA ISAP) on behalf of the California Department of Health Care Services (DHCS) developed the BQuIP to meet the need for a quick, no-cost initial placement tool. The tool has been developed and refined using a collaborative process involving stakeholders (e.g., DHCS, county behavioral health administrators, treatment providers, subject matter experts, and experienced clinicians). The BQuIP tool has not been created or endorsed by ASAM.
At this time, the tool is in the beta testing stage. "Beta" means the programming and algorithms have been refined for release for use by a limited number of users, selected by DHCS, before its general release. The beta version of the BQuIP tool is being tested with a limited number of counties. The goal of the beta test is to collect suggestions for improvement from users and data for further validation of the tool.
DHCS has indicated that they would like to begin the beta testing of the web-based BQuIP (beta version) tool with "live" waiver counties that wish to use it. This will allow UCLA ISAP to further validate the tool using Level of Care data already routinely being submitted to DHCS by waiver counties, which is a critical piece in the beta test.
Interested live waiver counties can inquire with Cheryl Teruya (CTeruya@mednet.ucla.edu) and Valerie Antonini (VPearce@mednet.ucla.edu) about becoming a BQuIP beta version test county. Counties will be required to sign an agreement with DHCS and be approved by DHCS to beta test the tool prior to accessing the BQuIP (beta version).
Once approved, the county will receive access to the BQuIP (beta version) web link, as well as training and implementation resources. All BQuIP users will be required to view the training webinar and user manual.